Avon Oaks Rehabilitation Services
Avon Oaks is Your Road Home.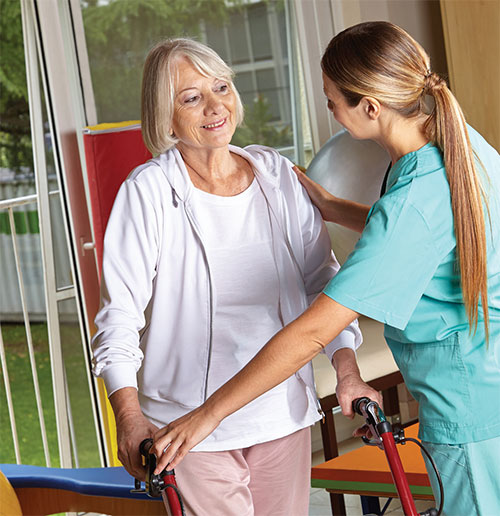 "Thank you for the wonderful care I received...everyone was so kind and thoughtful. I am extremely grateful for the nurses and aides that attended to my needs and the wonderful therapists and social worker who did so much for me. I am home and working hard to take back my normal life."
Mariel N., Avon Oaks Rehab Patient
---

At Avon Oaks, your successful outcome is our top priority. Our treatment team focuses on specific therapeutic goals to help improve skills and maximize independence, whether you're a short-term resident or outpatient. We offer comprehensive physical, occupational and speech therapy up to 7 days a week.


What to Expect During Your Rehabilitation
Excellent coordination of care from acute hospital admission through rehabilitation and discharge home.


An experienced interdisciplinary team of physicians, nurses, social workers, nursing assistants, therapists and dieticians all working toward your recovery


A person-centered care philosophy promoting personal choice, wellness and education


Amenities including a restaurant-style menu, free Wi-Fi, Internet, cable and telephone


Therapy Services
Each client's plan of treatment, duration of treatment and timing is very personalized. Rest assured you'll be in good hands, with only the best physical therapists.
Our team of professionals are trained in speech pathology and work with clients in a number of different ways depending on the injury, illness or condition.
Occupational therapy helps you perform daily tasks on your own again. Our staff has a goal of increasing your independence at your pace, with the compassion and empathy you deserve.
If you're having elective surgery, make a reservation for rehab ahead of time. Call the admissions department at 440-934-5204 to schedule a tour and meet our team.